Products
Vending Machines Kingsport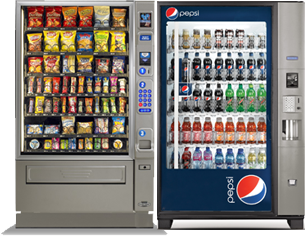 Palace Vending Keeps YOUR Machines Stocked With Delicious Snacks, Beverages, Foods, and more!
You're never hungry when a modern, clean Palace Vending Machine is in reach. We offer a wide range of beverages, snacks, fresh food, and coffee vending machines. So if it's your morning coffee, your mid-morning snack, a full lunch, or a 2 pm pick-me-up -- Palace Vending has exactly what you, your employees, and customers want.
Consider the benefits of having snack machines, coffee machines and food machines in your break room. Employees get more work done when they don't have to step out of the office to get coffee.
Palace Vending has a long tradition of going the extra mile in stocking exactly the snack options you prefer. Tell us what you like and what you don't like. We'll make sure your machines are custom stocked. We can even include today's most popular Healthy Choices that are low in fat and sodium.
We offer clean, reliable machines that are installed and maintained at no extra charge. We keep your machines running smoothly with scheduled service and the latest technology. In the event a problem arises, you can count on Palace Vending's famous quick response time.
Please contact us at Palace Vending for a no-obligation discussion of your exciting vending options. Call 800.327.1951 or email
palaceoffice@palacevending.com
.
We are located in Kingsport, however, we service a wide area including but not limited to the surrounding areas of Johnson City, Bristol, Morristown, Greeneville, Elizabethton, Southwest Virginia, and the Greater Asheville, North Carolina Area.